---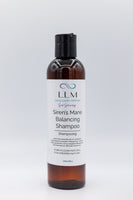 Siren's Mane Balancing Shampoo 473ml
Long Locks Method
Siren's Mane Balancing Shampoo is pure, clean and gentle on your hair. This shampoo will gently cleanse the hair and scalp without over stripping. Natural ingredients create a beautiful lather and rinse clean.
Directions: Apply a generous amount of shampoo to wet hair. Gently massage hair at the roots. Rinse thoroughly. Repeat as needed. Finish with Siren's Mane Balancing Conditioner.
Ingredients: Water (Aqua), Infusion of Lavandula Officinalis (Lavender Water), Rosmarinus Officialis (Rosemary Water), Equisetum Arvense (Horsetail plant), Urtica Dioica (Nettle Leaf), Salvia Officinalis (Sage), Panax Ginseng (Chinese Ginseng), Calendula Officinalis (Calendula Extract), Olea Europaea (Olive Oil), Camellia Oleifera (Camellia Leaf Extract), Hypericum Perforatum (St.John's Wort Oil), Laminaria Digitata (Seaweed), Alkyl Polyglucosides (Natural Vegetarian Surfactant from Corn, Potato, Wheat, Coconut Oil), Cocamidopropyl Betaine (from Coconuts), Vegetable Glycerine, Cannabis Sativa (Hemp Seed Oil), Panthenol (Vitamin B5), Cyamopsis tetragonoloba (guar Gum), Citric Acid Sodium Hydroxymethylglycinate. 100% Pure essential oils of Lavandula angustifolia (Lavender), Pelargonium roseum (Rose Geranium), Citrus bergamia (Bergamot) and Rosmarinus officinalis (Rosemary).
Siren's Mane is not intended to treat or cure any disease or condition, please consult with your trusted practitioner or health care provider.
Please do not ingest or apply this product to open wounds.