---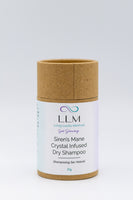 Siren's Mane Crystal Infused Dry Shampoo
Long Locks Method
Siren's Mane dry shampoo is specially formulated to boost volume while absorbing oil and odours. Siren's Mane dry shampoo is easy to use and is great for those with an active lifestyle. This dry shampoo is great after workouts or when you are pressed for time. No follicle-clogging ingredients. Contains NO BENZENE and uses all natural ingredients.

Directions: Sprinkle a little dry shampoo near the roots of the hair.
Run your fingers throughout or brush lightly, and voila your hair is dry shampooed!
Siren's Mane is lightweight in texture and blends into most hair types. This product is vegan, has no artificial fragrances or dyes, is cruelty-free & zero waste. This dry shampoo does not contain shampoo phosphates or harmful chemicals and the container is recyclable. The scent will draw them in and is Siren approved!!
Ingredients: Arrowroot Powder, Rice Powder, Andean Salt & Bentonite Clay. Pure essential oils of Lavender angustifolia (Lavender), Pelargonium roseum (Rose Geranium), Citrus bergamia (Bergamot) & Rosemarinus officinalis (Rosemary) Contains Amethyst Quartz Crystals.
FEATURES & BENEFITS: Instant Refreshing of Hair ~Soothe Scalp ~Neutral ~ Adds volume ~ No artificial ingredients ~Cruelty-Free ~ Zero Waste ~ No Phosphates ~ Container is 100% Recyclable
Siren's Mane is not intended to treat or cure any disease or condition, please consult with your trusted practitioner or health care provider.
Please do not ingest or apply this product to open wounds.